Magnetic Level Gauge from Almeg Controls
Almeg Controls Magnetic Level Gauge or Remote Visible Indication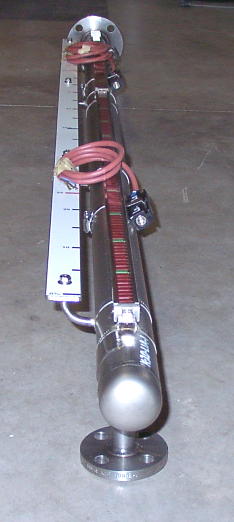 A magnetic or by pass level indicator provides a visual indication of the level in a vessel.
A series of flags visually indicates the level form a good distance. The flags are remote from the liquid thus no process will leak - even if the flag housing is damaged.
Several reed switch points can be added to the outside for point indication or the continuous model for more exacting remote reading. A stainless scale is available more accurate visual readings.
How it Works?
A By Pass or Standoff Pipe is engineered to specifications with either pipe or flange fittings to attach to an existing vessel. The center-to-center distance is built to request. A flag or flapper chain is attached to the external part of the column. The flag have magnetic tips to provide neat alignment as the level rises and falls.
A magnetic equipped float located inside the column follows the liquid level activating the flags as it moves. So – a section of "flipped" flags indicates the level.
How to order:
1. Plastic or Stainless material is available with a large selection of floats and sp.gr. to choose from.
2. Select material, standoff NPT pipe or flange centre to centre. The indicating distance will be between the standoffs.
3. Select what indication is required.
4. Indicate process liquid, temperature and pressure.
5. Send basic information and a drawing will be returned for approval.

Click here for RVI