Comdronic AC6 Electronic Waterflow & Pressure Commissioning System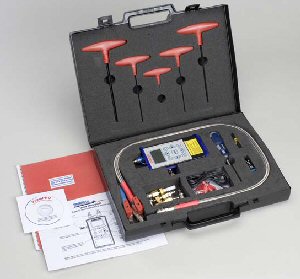 Now with unique DSP Technology™ for sensor protection
Simplicity
Unlike any other commissioning unit, the most commonly used functions - Flow and Pressure - are shown as the default screen from the Display menu. This means that for general commissioning purposes the most valuable data is shown at the touch of a button - in large text.
The nine button keypad allows simple navigation through the menu system that provides the option to select the most appropriate screen for the work being carried out. This can show the full parameter of data available or simply a screen showing, in large text, just the differential pressure, useful for those wishing to use the AC6 as a simple manometer.
Sophistication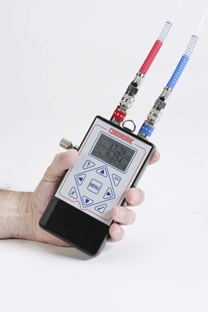 Accuracy of measurement is of course one of the most important elements of the function of commissioning units. The Comdronic AC6 gives differential pressure readings better than 1% or 100 Pascals, plus an integral damping system further improves reading confidence on unstable systems.
This level of accuracy is achieved with the use of the latest wet/wet sensor technology, however, the delicate nature of this type of sensor design means that damage can easily occur if the correct operating procedure is not followed. To overcome this threat to the sensor, the AC6 incorporates a unique crossover valve arrangement (DSP Technology™) designed to protect the sensor from damage caused by very high differential pressure being present.
Convenience
Designed to be as portable as possible the compact and light weight AC6 unit is easily operated in the hand or may be clipped to a lanyard.
The complete Comdronic AC6 unit includes transducer with backlit display, snap connector anti-kink tubing set with isolation valves, snap connector angle pattern insertion test probes, Replacement battery and instruction manual all within robust carrying case.
PcomPRO™ Software
Supplied as an option, the software is designed specifically for the AC6 range of instruments, PcomPRO™ allows the user to create a project on the PC prior to it being downloaded to the AC6 for subsequent use on site.
The benefits of this process are that all valve identities and design data can be stored on the AC6 without the need for manual lists of valves and schedules. The process of creating the project on the screen of the PC is very quick and up to 9000 valves along with their design data can be stored. The data is easily downloade to the AC6 for use on site where actual settings etc can be stored for subsequent uploading back to the PC for reference or submission to the client.
AC6 units that are supplied for use with PcomPRO project application software are supplied with the following:
AC6 fitted with communication module.
PcomPRO application software
USB communication software
Windows.NET additions
USB cable
Instruction manual
Instrument also available as a AC6 HP (High Pressure) version.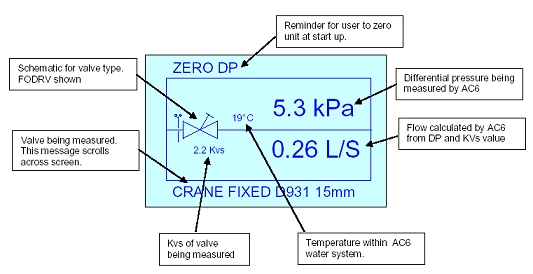 AC6 Specification
Technical Description
The Comdronic AC6 is an electronic manometer programmed to carry out differential pressure measurements primarily on balancing valves in the building services industry. The state-of-the–art software and extensive database of the world's balancing valves allows direct reading of flow, differential pressure, percentage of design flow and target flow.
The nine button design allows simple navigation of the easy-to-follow menu system with all parameters visible on screen.
System accuracy is guaranteed by the use of carefully selected sensors protected by DSP technology™ with resolution and accuracy most appropriate for the range of differential pressures being measured.
Measurement Accuracy
Differential pressure – better than 100 Pascals or 1% whichever is the greatest.
Measurement Range
0.1 kPa to 250 kPa
0 to 95 deg c
Effective Operating Time
20 hours with standard Alkaline PP3 battery
Displays
Flow/Pressure Display - shows valve type, Kvs value, handwheel setting (Variable orifice), Differential pressure, Flow, valve maker, valve type, valve size.
Main display - shows valve type, Kvs value, handwheel setting (Variable orifice), Design flow, target Flow, Differential pressure, Flow, valve maker, valve type, valve size.
Pressure display - large text Differential pressure.
Flow Display—Large text flow.
Predictive handwheel position - For adjusting variable orifice valves.
Chart recorder - Shows signal from system in oscilloscope form
Fast valve - Up to eight valves with model, size and design flow attributes can be saved to a quick access location for fast recall when balancing systems with multiple valve types/sizes.
Help - Context sensitive help is available for all functions. Dedicated button available for this function
Units
Differential pressure - Pa, kPa, psi, bar, feet H2O , Inches H2O , mtrs H2O , mm H2O, cm H2O.
Flow - l/s, l/m, l/h, galls/m (imperial), gpm (US).
Temperature - Celsius, Fahrenheit.
Edit Functions
Design flow, target flow, specific gravity, Kvs, valve maker, valve group, valve model, valve size, handwheel position. Zero cutoff.
Database
Over 2650 valves and measuring devices from 52 manufacturers.
Spares
Tool belt for hands free portability.
Replacement hoses up to 3 metres in length.
Mechseal style and insertion testpoints.

Download Brochure