DH500 - Hygro-Thermometer | Pacer Instruments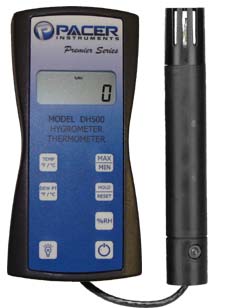 The Pacer DH500 Hygro-Thermometer is a high-quality instrument providing highly accurate humidity and temperature measurements in harsh environments via a user-friendly & intuitive interface.
Applications indoor air quality, process control, flow hood monitoring and many other applications where precise humidity and temperature measurement is required.
Features:
Includes Combination Humidity-Temperature Sensor

Temperature measurement from -4°F to 176°F

Humidity measurement from 5% to 95% Relative Humidity

Calculated Dew Point across full range of combo-sensor

Large display with backlight

Easy to use keypad

Displays measurements in °F, °C, and %RH

Many features such as MIN/MAX capture, HOLD, and sample averaging

Includes NIST-Traceable calibration certificate.


DH500 - Hygro-Thermometer