DA420 - Rotating Vane Thermo-Anemometer | Pacer Instruments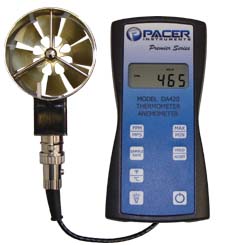 The Pacer DA420 Rotating Vane Thermo-Anemometer is a high-quality instrument providing highly accurate air velocity and temperature measurements in harsh environments via a user-friendly & intuitive interface.
Applications indoor air quality, process control, flow hood monitoring and many other applications where precise air flow and temperature measurement is required.
Features:
Rotating Vane Probe with built-in RTD temperature sensor

Rated from 50 to 7800 feet per minute
High Accuracy 1%+-1 digit (on APT275)

Temperature measurement from -4°F to 212°F

Industrial Grade Instrument and Probe for Harsh Environments

Large display with back light

Easy to use keypad

Displays measurements in FPM, MPS, °F, and °C

Many features such as MIN/MAX capture, HOLD, and sample averaging

Includes NIST-Traceable calibration certificate.
Call us to Ask About These Available Options:
Additional probes

Custom cable lengths

Auxiliary RTD temperature probes


DA420 - Hygro-Thermometer Anemometer