TT 570 Standard Micromanometer from DP Measurment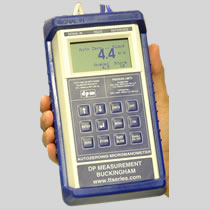 The TT 570 Standard Micromanometer with its unique differential capacitance transducers and programmable auto zero facility stores up to three Pitot Tube factors, up to four duct settings and a maximum of 2500 readings.
Readings can be downloaded to PC in basic format with optional download software.
Weighing 555 g, measuring 45 x 92 x 185 mm and powered by a single battery; the TT 570 Standard Micromanometer is ideal for the modern engineer.
Robust

Durable

No Sensing Electronics

No Moving Parts

Velocity From 0.30 m/s (60 ft/min)

Use in conjunction with tried & tested dpm micromanometers
Other accessories sold separately.

TT 570 Standard Micromanometer Specification