dpm ane™ Series of Anmeometers from DP Measurment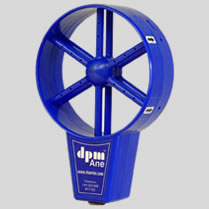 dpm ane™ is an innovative design utilising fundamentall principles for accurate measurement of pressure conversion to velocity. An easy measurement of average velocity is achieved by an array of calibrated forward and reverse facing sensors around the central hub.
Possible use in potentially hazardous areas. Can be used as a fixed monitoring installation or simply hand-held.
To be used in conjunction with the tried and tested dpm Micromanometers.
HVAC Commissioning and maintenance. Gas flow measurement. Paint booth and clean room measurement. Aerodynamics and air flow research. Wind tunnel testing. Furnace draught measurement. COSHH requirements relating to airflow and pressure.
Robust

Durable

No Sensing Electronics

No Moving Parts

Velocity From 0.30 m/s (60 ft/min)

Use in conjunction with tried & tested dpm micromanometers
Other accessories sold separately.

Download full dpm ane™ anemometer specification (410kb)