Gas-Roverô Handheld Gas Detector From Bascom Turner

Gas-Roverô
The affordable alternative to a Flame Ionization Detector and so much more, now with GPS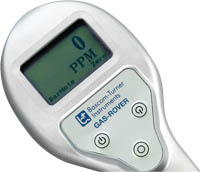 Description
The Gas-Roverô uses a catalytic combustion sensor to provide sensitivity, speed of response, and accuracy needed for leak surveys on foot or by vehicle. The Rover can be used to replace a conventional FID with a significant reduction in cost and a substantial increase in convenience.
Working Features
Measurements over the full range of gas from 1ppm to 100% gas
Survey mode provides a calibrated scale from 1ppm to 10,000 ppm
Barhole mode yields peak and sustained readings after a fixed time
Optional sensors for CO and O2
Intrinsically safe design for indoor and outdoor use
Visual and audible alarms for all monitored gases
Amenities
Automatic calibration, stand-alone and/or in-network docking stations
Automatic storage of mode and time-stamped data
USB interface for data transfer and area network
Two-speed pump automatically set for the job on hand
Large, bright, backlit LCD display with short manual on-board
Sturdy construction in an ergonomic 24 oz package
Bottom Line
A breakthrough in catalytic sensor technology yields an instrument of outstanding value and convenience, now with GPS.
Literature

Brochure - PDF

Specifications and Models - PDF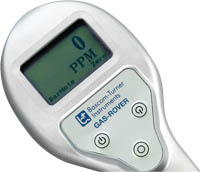 GPS Enabled Gas-Rover™
The only GPS equipped handheld CGI on the market

In addition to automatic capture and storage of all readings data, the newest option for the Gas-Rover allows users to automatically record GPS readings for all walking and truck survey data as well as bar-hole readings. Data can be downloaded to any PC, and GPS coordinates along with associated date, time and mode-stamped readings are stored in a format compatible with standard GIS systems.
Literature

GPS Brochure - PDF