Safelink Communication System from Zellweger Analytics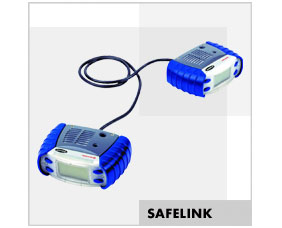 Safelink Communication System allows two
Impact Pro
portable multigas monitors to be connected together such that the gas readings and instrument status from one are repeated on the other. This allows a co-worker in a confined space to be monitored remotely, as well as providing a simple means to pass messages back and forth. Emergency assistance can easily be called by pressing and holding any button so that help is never far away.
Safelink Communication System is designed to simplify compliance with confined space entry regulations and working practices. Generally, two people are required to carry out confined space entry procedures correctly. One, the Attendant, must continually monitor the status of the other Entrant and initiate rescue procedures if necessary. When the Safelink cable is attached to the two Impact Pro instruments the link is automatically recognised. One instrument is configured as the Attendant and the other is automatically designated at the Entrant; neither instrument can now be turned off.
The Attendant is prompted at regular timed intervals to send a message to the Entrant who has to reply by pressing any button on the instrument. If no reply is received, both instruments raise alarms. Other pre-defined messages may be configured using the PC software provided, allowing a flexible method of communication to be established.
Ensures Good Working Practice
Continuous monitoring of Entrant.
Simple and reliable means of communication.
Prompts users to maintain contact.
Ensures compliance with regulations.
Minimizes Risk
Attendant always aware of Entrant status.
Help can be made more quickly available.
Attendant is aware of conditions prior to entry.
Easy to Use
Plug and play configuration.
Intuitive, multi-lingual menu system.
Single button operation.
Single button Emergency alarm facility.
User configurable messages.
Reliable
Instruments continuously talk.
Full data integrity check eliminates false alarms.
Does not suffer from blind spots.
Confined Spaces
Gas check prior to entry.
On-going monitoring during operations.
Communications system in difficult areas.
Search and rescue