Raytek Minitemp MT2 Infrared Thermometer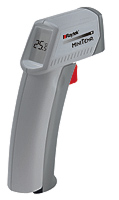 The non-contact Raytek MiniTemp MT2 infrared thermometer without laser sighting is small enough to fit in your pocket. The MiniTemp MT2 infrared thermometer from Raytek is powered by a 9V alkaline or NiCd battery.
Lightweight infrared thermometers from the Raytek MiniTemp MT2 Series are perfect for facility maintenance (both preventative and predictive), machinery inspection, equipment audits, electrical troubleshooting and a range of additional applications and uses. Just aim, pull the trigger, and read the current surface temperatures in less than a second. You can safely and easily measure surface temperatures of hot, hazardous, or hard-to-reach objects without contact using your Raytek MiniTemp MT2 infrared thermometer.
The Raytek MiniTemp MT2 infrared thermometer has a temperature range of 0 to 525°F (-18 to 275°C) and a response rate of 500 mSec for each measurement reading. The distance to spot is 8:1. This Raytek infrared thermometer has a preset emissivity of 0.95.
Optional nylon holster sold separately.
Infrared Temperature Measurement - Technology Explained
Infrared thermometers measure temperature from a distance by detecting the amount of thermal electromagnetic radiation emitted from the object being measured. This allows users to accurately measure surface temperatures in hazardous or hard-to-reach places, or other situations in which non-contact temperature measurement is desirable. Infrared thermometer technology is useful in a wide range of applications – including industrial, laboratory, food service, fire fighting, hobby, and home use.
While the technology is relatively simple, the myriad of names given to these devices can be confusing. "Laser Thermometers" makes reference to the laser that helps aim the thermometer. "IR Sensors" and "IR Thermometers" make use of a common abbreviation for "infrared". "Non-Contact Thermometers" is descriptive of the device's ability to measure temperature from a distance. "Radiation Pyrometers" is a scientific/technical term for these devices.