Falcon-II Economical Air Quality Monitor - Two Channel Air Quality Monitor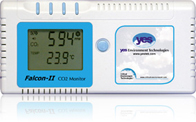 The Falcon-II is a reliable, accurate air quality monitor for temperature and Carbon Dioxide that is also very economical. The large, easy to read LCD display indicates the measured values for each parameter as well as battery status and other information. The instrument will operate on four AA batteries or continuously from the supplied wall adapter.
Two-channel air quality monitor measures and displays CO2 and temperature. Compact, light weight, hand-held and inexpensive.
Measures Carbon Dioxide and Temperature

Accurate and reliable CO2 detection

Large LCD display

Audible Alarm

Compact and Lightweight

Easy to use