Wireless ConsoliDator - PDS941: PD941 Wireless System - PDS981: PD981 Wireless System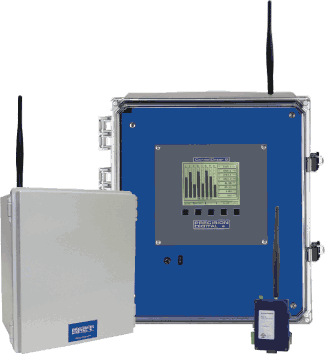 PDS941: PD941 Wireless System
PD941 4-channel ConsoliDator with Optional Wireless Components that include
Wireless Analog Inputs

Wireless Analog Outputs

Wireless Communications
PDS981: PD981 Wireless System
PD981 8-channel ConsoliDator with Optional Wireless Components that include
Wireless Analog Inputs

Wireless Analog Outputs

Wireless Communications
Wireless technology provides a wider range of options for solving application problems. If you need to get a signal across a road or highway, or through a concrete wall, or atop a very tall building, wireless is a very practical solution.
If you've had to run a network of wires overhead, underground, through walls, or under floors you know how expensive this can be. Hard wiring can cost $10 to $80 per foot. Even higher in some cases. There are numerous other costs associated with hard wiring such as towers, trenching, paving, cabling, conduit, permits, and delays. So whether considering a new application, or retrofitting an old, a Wireless ConsoliDator solution can save you thousands of dollars.
With the use of wireless technology, valuable but previously inaccessible process data can be distributed, presented, and shared wirelessly throughout the plant and/or office. With the ConsoliDator, its free software, or its PV retransmission capability, alarms and information can be disseminated to more locations, shortening reaction times. With the ConsoliDator's serial port wirelessly connected to a remote computer, the free PC software displays bargraphs, recent history graphs, logged data, and more. Thus providing more insight into the process before anything goes wrong.
Reduce data reading routes with a wireless ConsoliDator system. Data read from new or existing sensors can be brought to a logical & convenient monitoring point using wireless technology. Various displays on the ConsoliDator make the information easier to read. The free PC based software included with every Consolidator has numerous display screens & functions (i.e. data logger and recent history graph) that are great archiving and troubleshooting tools.
Our wireless systems are capable of making three different interfaces wireless. By using different installed modules, the following inputs and outputs can be made wireless.
Analog inputs (PV's)

Analog outputs (Retransmission)

Modbus serial communication port
The analog signals are converted to digital in order to be communicated wirelessly via a reliable 900 MHz band radio transceiver. These signals are then converted back to an analog form (4-20 mA) at the other end. The serial communication data to/from the ConsoliDator is sent/received via a Modbus compatible wireless serial modem. The other end of the communications link has another wireless serial modem which can connect to any Modbus master device (i.e. computer, PLC, DCS, etc.).
Features
Remote Monitoring & Alarming

Reduces Installation Costs

Reduces Remote Reading Costs

Monitor Up to Eight Signals

Up to 1200 Feet Indoors, 5 Miles Outdoors

Monitor & Datalog in Remote Office

Multi-Use of Data

Pre-Wired Sub-Panel

Preprogrammed Wireless Modules

Wireless ConsoliDator